If you're in the market for a new ATV or UTV, you'll soon discover there are quite a few different types available. The selection may feel overwhelming for someone that's not too familiar with off-road vehicles, but you'll learn that each type has its purpose.
We'll look at the characteristic features they offer and provide a rating of how well-suited each of them is in typical riding applications so that you can choose one that fits you and your specific needs.  
In this overview, we've included both ATVs and UTVs (also known as side-by-sides or simply SxS). A UTV is, technically speaking, not an ATV, at least not according to the ANSI definition.
In short, an ATV is a four-wheeled off-road vehicle that uses handlebars for steering and has a straddled seating position like on a motorcycle.
A UTV is also a four-wheeled off-road vehicle with a steering wheel instead of handlebars and offers individual bucket seats for each passenger placed inside a protective roll cage.
But since many people use the broader term ATV in their everyday speech when referring to any vehicle type in this post, covering all of them together makes sense. 
Related: 8 Vehicle Types That Are Similar to ATVs
Recreational and Utility ATV
The majority of adult-sized ATVs on the market are what are known as recreational and utility ATVs. These are vehicles designed to offer decent overall performance in a wide range of riding applications that meet the average rider's needs.
Characteristic features of a Recreational and Utility ATV:
Will fit one person – the rider
Designed with reliability and flexibility in mind.
They are smooth and easy, and comfortable to ride.
They offer good traction and accessibility in most typical riding applications.
Modifications are typically required for more extreme applications such as deep mudding.
Can tow about 1200lb and carry about 250lb of cargo on front and rear cargo racks.
Related: 18 Typical ATV Features Explained and Beginner Guide: ATV Controls Explained (With Photos)
| | | | |
| --- | --- | --- | --- |
| Usage | Not Suited | Suited | Well Suited |
| Recreational trail riding and exploring | | X | |
| Farm work (utility) | | | X |
| Hauling cargo, hunting, camping | | | X |
| Racing | X | | |
| Mudding | | X | |
| Rock crawling | | X | |
| Accessing remote locations | | | X |
| Desert/dune riding | X | | |
| Youth riders | X | | |
Touring ATV
A touring ATV share many of the same features as a recreational and utility ATV, except for one crucial difference. A touring ATV is designed for two people (rider + 1 passenger), whereas other recreational and utility ATVs are only for one person.
The wheelbase is extended by three to five inches to make room for one extra person, and stiffer springs are installed in the rear shocks to account for the added weight. A dedicated seat and handles are installed for the passenger to sit safely and comfortably.
Compared to a standard model, this seemingly moderate alteration to the design makes the bike less likely to tip when going up and down a hill and makes for a less nimble riding experience in rough terrain.
Related: This is why ATVs have Large Seats (Hint: Not for Passengers)
Sport ATV
Sports ATVs are also called "Racing ATVs" or "Performance" models. These are vehicles specifically designed for optimal performance in high-speed riding applications such as racing and thrilling trail rides. 
Characteristic features of a Sport ATV:
It offers an upgraded suspension with better performance and adjustment options.
It has a wider track width for better stability, especially when cornering at high speeds.
It features upgraded undercarriage components such as A-arms, axles, and bushings for better handling than the more moderately set up Rec & utility ATVs.
It offers a lighter overall weight for better acceleration.
Clutches are set up for optimal acceleration rather than smoothness and comfort.
Related: This Is Why ATVs Don't Have Seatbelts, but UTVs Do
| | | | |
| --- | --- | --- | --- |
| Usage | Not Suited | Suited | Well Suited |
| Recreational trail riding and exploring | | | X |
| Farm work (utility) | | X | |
| Hauling cargo, hunting, camping | X | X | |
| Racing | | | X |
| Mudding | | X | |
| Rock crawling | | X | |
| Accessing remote locations | | | X |
| Desert/dune riding | | | X |
| Youth riders | X | | |
Racing quads. Sport ATVs with 2-wheel drive and a solid rear axle are typically called racing quads.
These bikes are purpose-built for speed and stability and are often used in racing or dune riding when modified with aggressively threaded paddlewheels at the rear. They are not very suited for more utility-oriented riding applications.
4×4 Sport ATVs. Sport ATVs with 4×4 are typically based on the frame and engine of a utility and recreational model. While they are tweaked towards performance, stability, and handling, you can still use them for odd utility jobs such as plowing snow or hunting.
Youth ATV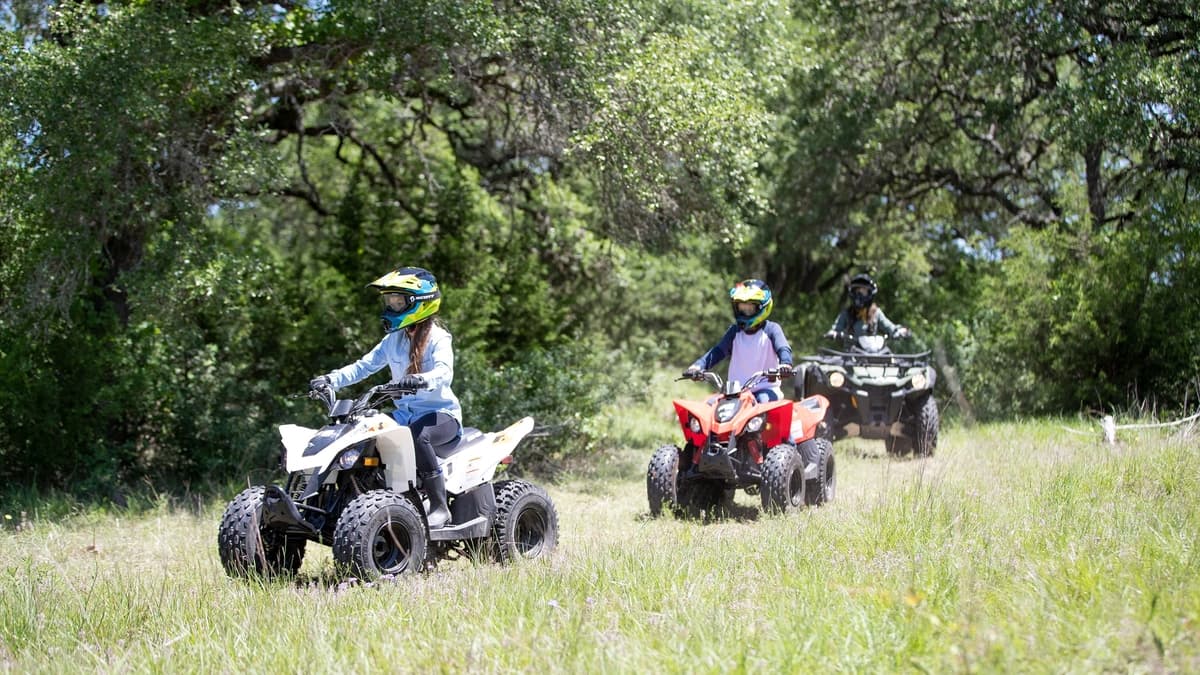 Youth ATVs offer many of the same qualities and features as adult-sized ATVs but are scaled down in size, weight, and power to accommodate the size and strength of younger riders.
Many youth ATVs offer safety features such as speed limiters and even GPS technology that limits vehicle range and location. 
ATVs are highly interactive vehicles that use the weight and strength of the rider to aid stability and maneuvering in rough terrain.
Since children in most canvases are smaller and have less muscle strength, they cannot operate an adult-sized ATV safely. In addition, they have not yet fully developed their ability to assess the risks and possible consequences of operating a powerful full-scale ATV.
Youth ATVs are only meant for practice and play in a closed course under the supervision of an adult or on trails accompanied by adults.
While they're technically capable of performing many of the riding applications as listed under the various adult-sized ATVs and UTVs, the size and age of the rider are usually what ends up being the limiting factor, not what the ATV can handle. 
General guidelines to what size of youth ATV to choose according to the age of the rider:
| | |
| --- | --- |
| ATV engine size | Rider Age |
| 70cc | 6+ |
| 90 to 110cc | 10+ |
| 200 to 250cc | 14+ |
| 250cc and above (adult-sized ATVs) | 16+ |
Recommended ATV size by rider age.
Please remember that these recommendations will not be suitable for all children. Some children are small for their age and should use an ATV one size smaller than indicated by the overview.
Also, as an adult, remember that you are responsible for evaluating the child's maturity level and whether they are ready to operate the specific vehicle size safely. 
Special Edition ATV
Some manufacturers offer ATV types that do not fit within any of the main categories.
These are typically models designed for a specific riding application where they will outperform all the other types.
However, when used outside the specific purpose they were designed for, their unique design features may cause drawbacks the more universal models don't struggle with
One example is the Can-Am XM-R or Polaris High lifter edition, explicitly built for extreme mudding.
These come factory equipped with common mudding mods such as large tires with an aggressive paddle-style thread pattern lifted suspension and undercarriage components for better ground clearance and relocated radiator for easy cleaning.
Another example is the 6X6 models offered by Can-Am and Polaris.
These models have one extra rear axle and a flatbed for improved traction and larger cargo capacity.
They are a sworn favorite for utility work in wet and remote locations, but the added length does take a toll on maneuverability. 
Other types are Hunting editions with camo print, brush guards, and sturdy cargo racks or 4×4 utility models featuring a cargo flatbed, such as the Textron Alterra TBX.
Utility Side-by-Side (SxS) and UTV
Heading over to the SxS and UTV categories, we find various vehicle types designed to accommodate specific needs, just like ATVs.
All UTV and Sise-by-Sides share these standard features:
You sit in them, not on them like on an ATV.
They feature a protective roll cage.
They operate using a steering wheel and pedals.
While still providing decent off-road capabilities, they are not as agile and maneuverable in rough terrain as a traditional ATV. They offer a wider track width, lower ground clearance, and higher overall weight, limiting their off-road capabilities depending on your riding terrain. 
A utility UTV (SxS) is designed to aid farmers, ranchers, and professionals in daily operations. They perform many of the same tasks traditionally done by a pick-up truck but with even more impressive off-road capabilities and convenience for the operator.
Characteristic features of a Utility UTV (SxS):
Easy to get in and out, which comes in handy when performing mobile tasks such as fencing or supervising the cattle herd.
It has an easily accessible cargo box with a payload capacity of 1000lb to 1500lb. 
They Will fit two to three people, the driver plus one or two passengers.
With independent suspension on all four wheels and an optional closed cabin, they provide a comfortable ride around your farm.
| | | | |
| --- | --- | --- | --- |
| Usage | Not Suited | Suited | Well Suited |
| Recreational trail riding and exploring | | X | |
| Farm work (utility) | | X | X |
| Hauling cargo, hunting, camping | | | X |
| Racing | X | | X |
| Mudding | | X | |
| Rock crawling | | X | |
| Accessing remote locations | | | X |
| Desert/dune riding | X | | |
| Youth riders | X | | |
Related: What is an RTV Vehicle? ATV vs. RTV vs. UTV Explained
Crew Cab UTV
A crew cab UTV is to utility UTVs, like a touring ATV is to rec/utility ATVs. They share many of the same features as a utility UTV but come with an extra row of seats to fit more passengers. Both sports UTVs and utility UTVs come in crew cab configurations. Some models feature a longer wheels base to accommodate more seats, while others feature a smaller cargo box than the 2-up models.
Crew cab UTVs will fit four to six people, depending on your chosen model. Like ATVs, the increased wheelbase makes them heavier, a bit harder to navigate in rough terrain, and slightly more expensive. 
Sport Side-By-Side (SxS) and UTV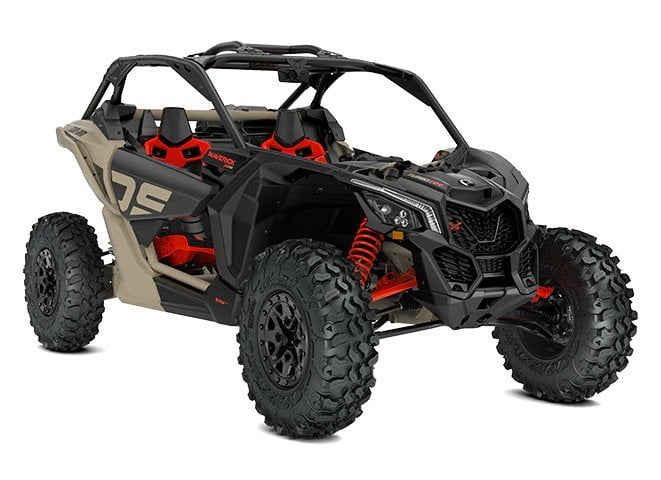 Sport Side-By-Sides is all about performance. No other type of vehicle offers such an impressive combination of acceleration, extreme suspension, speed, and handling over any terrain out of the box.
They can handle jumps, high-speed cornering, bumpy roads, and hardcore terrain like it's a walk in the park. If you're looking for adrenaline, you'd be hard-pressed finding a more suitable off-road vehicle.
Note that Side-By-Sides prefer open terrains over narrow forest trails full of obstacles. They thrive in the desert but may not be the best option for the forest.
Characteristic features of a Sport Side-By-Side (SxS):
They offer unmatched off-road performance in open terrains such as deserts, open plains, or mountain roads and trails.
The chassis is typically wider than a utility UTV, with a low center of gravity.
Feature powerful engines that can reach over 200hp and adjustable suspension similar to what would find on Dakar rally cars and dune buggies.
It can fit two people or four to six in a crew-cab configuration.
The rider and passengers each have their seat, featuring 4-point harness seatbelts.
Manufacturers offer models expressly set up for rock crawling, mud bashing, or dune riding.
They are unsuitable for utility work, such as hauling or carrying cargo. 
They do not have a cargo bed.
| | | | |
| --- | --- | --- | --- |
| Usage | Not Suited | Suited | Well Suited |
| Recreational trail riding and exploring | | | X |
| Farm work (utility) | X | | |
| Hauling cargo, hunting, camping | X | | |
| Racing | | | X |
| Mudding | | X | |
| Rock crawling | | X | |
| Accessing remote locations | | X | |
| Desert/dune riding | | | X |
| Youth riders | X | | |
Youth SxS UTV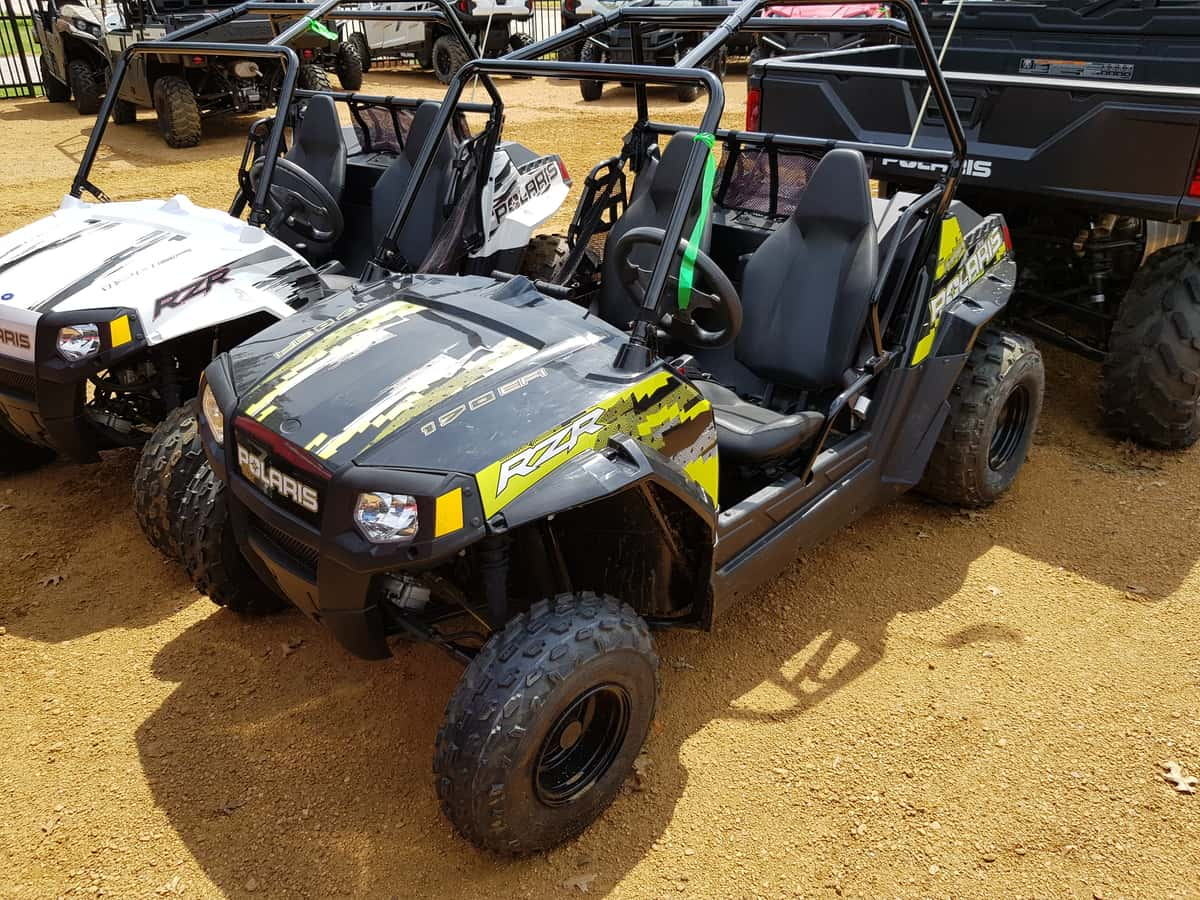 A youth Side-By-Side is a scaled-down adult-size SxS designed for younger riders, 10 years old or older. This type of ATV is becoming increasingly more popular than traditional youth ATVs due to safety features such as
An adjustable speed limiter
Child-friendly performance
Age-appropriate ergonomics
Protective roll cage
Seat + seatbelt configuration
Please note that even though a youth ATV offers many compelling safety features, it doesn't mean accidents can't happen. If the vehicle rolls over into a ditch, it is crucial for the child's safety that the riding only happens under adult supervision and in a controlled environment.
PS: While most of the photos in this post display Can-Am ATVs and UTVs, these are only meant as examples. Polaris, Honda, Yamaha, Textron (Arctic-Cat), Kawasaki, and CF Moto are other well-reputed manufacturers to look into. This post is only Can-Am-heavy because they were nice enough to allow me to use their photos on this site.