When shopping for a new off-road vehicle, you soon realize how the industry loves its abbreviations to describe the different types. An RTV is one of the variations you may have encountered, but what exactly is it?
An RTV, which stands for Rough Terrain Vehicle, is the Kubota brand's version of a side-by-side or UTV. It is a four-wheeled utility off-road vehicle known for its work features, rugged design, and high payload and pulling capacity.
In other words, Kubota RTVs are a type of UTVs that are not known for speed and play; they are more of a workhorse to help you get things done around the farm or out on a construction site or quarry.
Not sure whether an RTV is the right choice for you? Keep reading to learn more about its features and characteristics.
ATV vs. RTV vs. UTV – What's the Difference?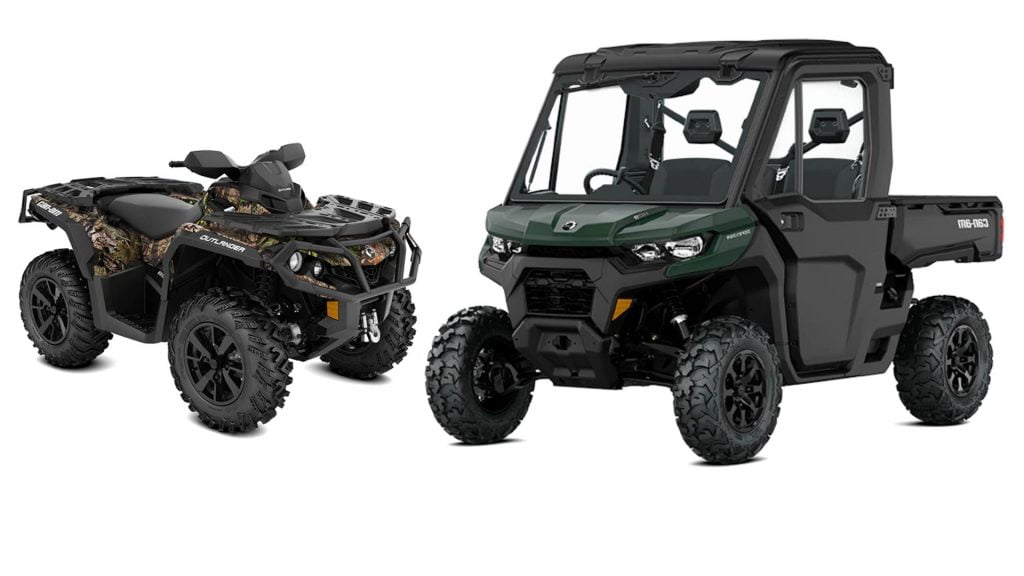 UTV stands for Utility Terrain Vehicle and is a generic term that includes Kubota RTVs, John Deere Gators, and similar vehicle types from brands like Polaris, Can-Am, and Honda.
Many prefer using the term side-by-side (SxS), referring to the side-by-side seating position all UTVs share.
ATV stands for All Terrain Vehicle and is designed quite differently from RTVs and UTVs.
An ATV is smaller and lighter, has a motorcycle-style straddled seating position, no rider protection, and is operated using handlebars and levers.
RTVs and UTVs are bigger and more stable, have automotive-style seats inside a protective roll cage, and operate using a steering wheel and pedals.
Let us look closer at how the different types compare and if there are other differences besides the branding between RTVs and other UTVs.
Primary Area of Use
ATVs and UTVs come in several types depending on their primary application.
Some ATVs are designed more towards speed, fun, and recreation, while others are more towards light utility work.
Similarly, some UTVs are designed for higher speeds and racing applications, while others as slow and rugged utility vehicles.
And that is where RTVs fit in. Whether hauling tools for a field repair, hay and bags of feed to feed animals, or fencing materials to maintain the pasture, an RTV may be just what you need.
Related: ATV vs. UTV – Which One Is Better for You?
Towing and Payload Capacity
Kubota RTVs have a rated payload capacity of 1100 lb but are technically capable of carrying up to 1600lb. Comparable UTVs like the Polaris Ranger and Can-Am Traxter offer similar carrying capacities.
The Kubota has a handy hydraulic dump bed with a factory spray-in bed liner.
A typical ATV can carry about 250lb of cargo with a total payload capacity of about 400lb to 500lb.
Regarding towing, Kubota RTVs have a rated pulling capacity of 1300lb, but according to one of their dealers, it can handle significantly more.
The Polaris Ranger and Can-Am Traxter offer a hitch-towing rating of up to 2.500lb, which is significantly more than the Kubota.
Related: How Much Can ATVs Tow – A Closer Look at Towing Capacity
Speed and Power
Kubota RTVs use diesel and gasoline engines designed to provide satisfying power and performance while remaining long-lasting.
They are not aimed at high-power and high-speed applications like other brands and models. However, they do offer a gasoline model with a higher power output and a more sporty design.
The most popular alternative and what the Kubota RTVs are known for is their diesel engines due to their high low-end torque, durability, and reasonable fuel consumption.
The RTX utilizes the power of hydraulics. It uses a variable hydraulic transmission (VHT), and a powerful hydraulic system operates things like the steering and dump-bed. Oil coolers help boost performance and durability.
Off-Road Performance
While RTVs offers good off-road performance, they are not designed for the most extreme trails.
You're set for most moderate off-road challenges with all-terrain tires, independent suspension on all four wheels, and 8 inches of suspension travel. But don't expect to take your RTV rock crawling or mudding any time soon.
Typical off-road riding with an RTV includes riding up creeks, around farms, and in the woods surrounding a property.
Handling
ATVs require an active riding style where the rider shifts their body weight back and forth and from side to side to keep the vehicle stable in uneven terrain.
On a UTV and RTV, on the other side, the rider sits in a fixed seating position like on a car, resulting in a more passive riding style.
ATVs use handlebars like motorcycles and snowmobiles, whereas UTVs and RTVs use steering wheels.
Power steering is available on most models, which can be useful in reducing rider fatigue.
Safety and Comfort
Some areas where ATVs and UTVs/RTVs differ the most are rider safety and comfort.
On an ATV, the small and narrow design requires an active riding style where the rider moves freely and can not use a seatbelt.
For the same reason and to reduce the risk of tipping due to a heightened center of gravity, most ATVs do not come with a roll cage or a cab.
Most UTVs, including all RTV models from Kubota, have a protective roll cage designed to protect the rider and passengers if the vehicle flips. The seats have seat belts to keep anyone from falling outside the cage.
Some models are open-cab, while others are fully enclosed with a roof, doors, and a windshield.
Luxuries like AC, cab heater, windshield wipers, and a radio helps ensure comfort in a UTV on a whole other level than any ATV.
Vehicle Noise
Diesel engines are typically louder at lower speeds than their gasoline counterparts. However, UTVs are not known for being particularly quiet in the first place.
Note that cab models aren't necessarily any quieter to operate due to the lack of dampening materials in the construction.
Related: How to Quiet a UTV – 11 Effective Tips
Cost of Buying and Ownership
The best utility UTVs typically retail anywhere from $18.000 to 28.000 depending on engine size and configuration. Kubota RTVs land somewhere in the middle of this range.
Your typical ATV runs a bit cheaper at around $15.000 to $20.000, again, depending on engine size and configuration.
A diesel UTV engine typically offers up to 30 or 40% better mileage than comparable gasoline engines.
Not only does this improve fuel economy, but it also adds to the vehicle's range without refueling. This is beneficial on longer rides where you may not need extra fuel.
Which Diesel UTV Should You Choose?
Diesel UTVs are becoming increasingly popular, and the selection for you to choose from is growing.
Other UTVs with diesel engines include John Deere Gator, Bobcat UV Diesel, Polaris Pro XD, and the Kawasaki Mule.
I would select a few candidates that fit my criteria and budget and choose which one to get based on dealer availability and reputation.
Because when things break, and they will, having a service-minded dealer to call is worth more than anything.
Related: 8 Vehicle Types That Are Similar to ATVs
Kubota RTV FAQ
How Fast Is a Kubota Diesel UTV?
The top speed of a Kubota RTV-XG850 is 40mph (65 kph). However, you will rarely be riding at such speeds with this type of vehicle.
What Does Kubota RTV Stand For?
RTV in Kubota utility vehicles stands for Rough Terrain vehicle. However, some prefer the term Rugged Terrain Vehicle.
How Much Does a Kubota RTV Cost?
The 2022 Kubota RTV X1100C has a manufacturer-suggested retail price (MSRP) of $22.999. The Kubota RTV-X900 has an MSRP of $16.299. However, you can get a better deal when they are on sale.
How Long Will a Kubota RTV Last?
A properly maintained Kubota RTV can last up to 5000 hours or more. However, neglect and misuse can severely reduce the vehicle's life expectancy, like all other vehicles.