ATVs are ideal for small-scale forestry, like collecting firewood, thinning jobs, and even hauling logs for your hobby milling projects.
In this post, I have gathered the most useful types of equipment and accessories for various ATV forestry work. I've also included my personal favorite type of attachment.
1. Log trailer
You can haul surprisingly large amounts of firewood with a proper logging trailer with your ATV. You can even manage some bigger sawmill-sized logs. The rated payload on these trailers is usually more than it will hold in logs.
They are fitted with boogie wheels for better off-road stability and loading capacity. Look for one with a minimum of 4-ply tires for better protection against flats.
The design of the side supports varies quite a lot from model to model. Most of them are made to be lowered in some way or another for easier loading.
Other important features to look for are a properly galvanized steel frame, greaseable axles, and an adjustable wheel assembly.
2. Log skidder/log hauler
Log haulers are my personal favorite ATV attachments for logging.
They are cheap, simple, robust, and maneuverable. The loading capacity is great, and they work just as fine for strings of firewood as they do with bigger logs up to 18-20 inches in diameter.
Most of them come with a mechanism to raise the log in front. This can be in the form of an electric or manual winch or various other designs. The logs are hung in a chain or placed in a studded cradle.
I prefer the type that uses a pulley or a ring on an angled piece of iron. This design mechanically raises the log when you drive forward. No winching is required.
Not only does this design make loading fast and easy, but it acts as a clever safety feature when skidding downhill.
When the log wants to slide forward against the ATV, the mechanism ensures the log instantly gets lowered to the ground, where friction helps prevent it from sliding into the rear of the ATV.
The lifting mechanism makes skidding the logs much easier and helps keep them cleaner, but the logs will not stay completely clean when skidding on bare ground. Also, the method will leave some visible tracks on the ground.
If contaminating the log with mud or sand is a big concern, you can get log haulers that include rear log support. This may be the case if you plan on milling the logs. Sand in the bark will quickly damage and wear the milling blade.
The rear support consists of a separate arch and drawbar with its own set of wheels. The part is designed to use the leverage of the drawbar to lift the log from the ground. Then you attach the log to the front arch and can start skidding.
But this extra step does add up in time throughout the day. Therefore I prefer using only the front arch for the most part.
3. Loading attachment for log trailer
Loading those logs by hand works fine for the occasional load of firewood. But this nifty little gadget makes the whole process much more effective and a lot less tiresome.
It utilizes the lever principle to lighten the job significantly. You are also able to load higher stacks without breaking your back.
This little gadget's cost/benefit ratio is hard to beat, making it my second favorite ATV accessory for logging.
4. Manual logging crane
Old-school loggers managed to load some impressive piles of logs without having access to modern equipment like loading cranes and winches. You can do the same with your ATV trailer in theory, but I prefer using a crane.
Manual logging cranes are the entry option for loading heavier logs onto the logging trailer. They usually come with a hand-cranked winch and steel cable. The crane can be rotated to either side of the trailer and is adjustable in height and length.
When installing a crane, you must also get proper lateral support, or you will have tipping issues. Ideally, it should be possible to widen the support for even better stability.
5. Log trailer with hydraulic crane and grapple
For maximum forwarding capacity, you should consider getting a log trailer that's fitted with a hydraulic loading crane.
These types of trailers come with various features and practical accessories. Be aware that quality varies quite a bit, even if they look very similar. On cheaper models, the crane is usually harder to operate smoothly, and the trailer may lack overall build quality.
As a minimum, the trailer should have the following:
Hydraulically operated support legs to prevent tipping.
An external motor and hydraulic pump aggregate that provides sufficient hydraulic capacity. This can be mounted on the ATV or maybe self-contained on the trailer.
A quality crane with good reach and a rotating grapple.
Quality ergonomic operating controls that attach to the back of the ATV or on the trailer drawbar. Look for a model with two four-way joysticks for the smoothest operation (only on high-end models)
Also, you can get a wide variety of practical upgrades and accessories. Availability depends on the make and model. These features drive the price up, so consider carefully what you need for your operation.
Hydraulic four wheels drive for better pulling capacity.
The system is called "Robson-drive" and basically consists of a metal drive wheel that turns the trailer wheels. See the above picture. The system works by friction and gets its power from a hydraulic motor, one on each side. With trailer wheel drive, you no longer have to worry about getting stuck under most logging conditions. With the logs' weight pushing down, the trailer will basically provide all the traction it needs on its own. The systems also function as brakes when you need to go down steep hills. Attempting a steep decline with a fully loaded trailer with no brakes is one of the most common causes of ATV logging accidents.
A hydraulic winch mounted to the crane boom.
Having a winch on the crane boom effectively extends the reach of your crane. An electric winch would also work, but you do not have to worry about the battery capacity with a hydraulic motor.
Hydraulically controlled frame extension.
Most trailers can mechanically extend or shorten the frame to fit the length of wood you're hauling. Some trailers do this with a hydraulic cylinder, making the system much more flexible. It allows you to adjust how much weight goes to your bike's trailer hitch with just the push of a lever.
Hydraulic boom extension in the loading crane.
This feature effectively gives you extended reach.
A 360-degree grapple rotator
Not all cranes come with the ability to rotate the grapple freely in a full 360-degree rotation. They stop just before making a full circle, and then you must return. You can get the job done without this feature, but it all comes down to efficiency.
A hydraulic foldable drawbar for better maneuverability.
A hydraulic felling grapple.
Some manufacturers offer hydraulic felling grapples that attach to the crane. This allows you to take down smaller logs efficiently and makes a great setup for thinning jobs.
6. Chainsaw mount
When you're just transporting the saw, a simple bungee cord is often enough to secure it to the ATV. But this would not be very practical when you are logging and constantly shifting between cutting and transporting the saw.
If the mount is not easily accessible, you'll end up taking chances by putting the saw on your half-full trailer or somewhere on the bike. There is also a bigger risk of misplacing it and then running over it with the bike.
A good chainsaw mount should have features like:
Easily accessible when logging.
Rugged – you should be able to use it without any risk of breaking it.
Quickly locks the saw in place. A one-hand tool-free operated locking nut is good.
Should cope with both warm and cold temperatures. Cheaper mounts made of flimsy plastic may break when temperatures drop low.
If you don't want to make your own mount, I recommend you have a look at this Amazon bestseller from Kolpin.
7. Quadskidder skidding plate
While pulling a log behind the ATV without using any tools is possible, it is far from ideal. You risk getting stuck on every stump and root on your way, and the log will become really dirty.
By strapping the front end of the log onto a skidding plate, it will slide a lot easier over obstacles and will not be forced into the ground. You can skid much larger logs just by using this basic skidding tool.
The plate is made out of durable metal and has a curved front for better flotation. Some models, like the QuadSkidder, are made to lift the log slightly from the ground when you pull the tow chains. The load sets back to the ground again as soon as you stop.
8. Skidding cone
A cheaper alternative to a metal skidding plate is getting a polymer plastic skidding cone.
You thread a choker chain or winch cable through a hole at the end of the cone and then hook up the log for hauling.
As soon as you start pulling, the log or several smaller logs will get pulled inside of the cone, where it's well protected from dirt and slide a lot easier over uneven terrain, roots, and tree stumps.
You can get the cone in the pic above here.
A quality cone should be flexible and not crack easily. Even at temperatures down to minus 30 degrees Celsius.
9. Waterproof storage box
It's a good idea to have waterproof storage on your ATV to carry more sensitive gear like a phone safely, keep your lunch from being smashed, and always have a set of dry clothes for when you need a change.
Because when doing forest work with an ATV, you will get wet, both from the inside and out. Snow falling down your neck from snow-filled branches, pouring rain, or dripping sweat.
Traditional manual logging using a chainsaw is physically challenging. Even if you do this for a living and find yourself in the best shape of your life, you'd be hard-pressed getting through the day without breaking a sweat.
In any case, having a set of dry clothes to put on when you take a break or when your trailer is full and you take on the road back home is important.
10. Electric ATV Winch
With a winch, you can retrieve heavy or out-of-reach logs. You can finish off a tree that accidentally got stuck halfway down. Or you can perform an impressive exact tree felling.
When the trailer is full, you may need to winch yourself through and over some of the obstacles on your way home. Having a winch is like having a powerful friend there with you to help out in the most tricky situations.
You can get winches that mount onto the ATV itself or mount it to the trailer crane.
This post discusses what size winch you should get for your ATV.
11. Snatch block
If you already have a winch, you can multiply its power and usefulness by adding a simple snatch block to your kit.
While more pulling power is always nice, it's the ability to change the winching direction that makes snatch blocks so useful when logging.
To retrieve the heaviest logs, you may need to use the winch. Difficult terrain or other obstacles may sometimes prevent you from placing the ATV in a good spot for winching.
By hooking the snatch block up to a tree and running the winch line through it, you can winch logs that otherwise would be impossible to reach.
I use the snatch block I got with this great winching kit from Mile Marker:
12. Choker chain
A choker chain is a short piece of chain with a hook at one end. They can be used for many things but are particularly good for hooking up one or more logs.
Form a loop by hooking the chain hook back onto the chain. When the chain's free end is pulled, the loop tightens firmly around the log or logs. Whether you attach it to your winch or your log skidder, the choker chain will keep your logs securely in place.
13. Lifting tongs and grapples
As an alternative to a choker chain, you can get a mechanical grapple that closes and grips the log when pulled or lifted. They attach faster to the log but involve a greater risk of losing grip on the log. The tool can be used for skidding, lifting, or winching.
14. Hydraulic front-end loader attachment
That's right; you can get front-end loaders that mount to your stock ATV. They do not possess the same lifting capacity as a tractor or a wheel loader, but they can be quite useful for small-scale operations.
The loader can be fitted with various implements, and pallet forks should work well for logging. With a lifting capacity of about 300lb at as much as 5 feet high, you should have no problems stacking a decent pile of firewood. You may even manage some bigger saw-mill-sized logs.
Just remember that the potential lifting capacity will likely be more than the weight of your bike can manage. Too much, and the bike will tip forward.
Install the motor and hydraulic pump to the bike's rear cargo racks to increase lifting capacity and reduce the risk of tipping.
15. Tire chains
Traction, or the lack of it, is usually the biggest challenge you will face when hauling any type of wood through the forest. The bike has plenty of power; you just need to ensure it's being put to the ground.
ATV tires come with aggressive tread patterns that provide a decent grip on many surfaces. But decent is often not enough when it comes to logging. Wet ground and slippery roots will often leave your bare tires spinning.
And when tires start spinning, what do you do? Resolve to speed to get the job done. This is when you're likely to break stuff or get yourself injured.
Installing a set of proper tire chains in all tires is a simple way to get better traction. And they are not only for ice and snow. Chains give you a lot better traction on mud and dirt as well.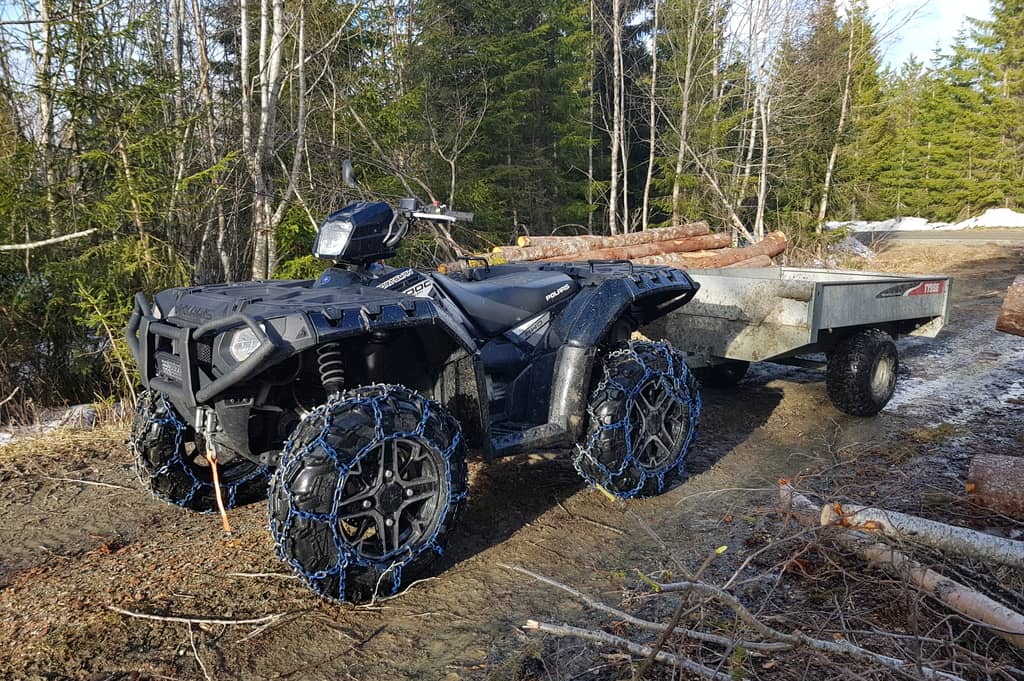 Add some weight to the bike's cargo racks for even better traction. This allows you to haul at a nice and steady pace and maintain full control of your operation.
16. Tracks
While chained tires are good on solid grounds like dirt and ice, they are not ideal in wet mud or deep snow. In these conditions, a set of ATV tracks is by far the best alternative.
They are not cheap but give you exceptional traction and floatation, even when riding on soft grounds.
17. Heated grips
Winter logging usually equals wet gloves. And driving an ATV in freezing conditions with wet gloves is not something you would do voluntarily. There is a fine line between just being uncomfortable and inflicting severe frostbite on your hands.
So why not take the opportunity to dry and warm your hands while riding the bike? You can get affordable aftermarket kits that will fit almost any bike. They are easy to install and a great upgrade for anyone that uses their ATV in wintertime.
18. Skid plates
The forest is full of obstacles like sharp rocks, roots, and tree stumps. No matter how careful you are, you will likely hit one sooner or later. Not only will this make the underside of your bike look bad. You may also inflict severe damage to the bike's suspension and undercarriage.
Skid plates can protect the ATV from potentially expensive damage to the undercarriage. This does not mean you can just hit any obstacle and be fine, but it gives you one extra layer of protection.
Most ATV skid plates on the market are made from aluminum or a strong polymer material. Which one you should choose will often depend on availability and personal preference.
Some prefer polymer as it does not get dented as easily as aluminum. Others prefer aluminum because dents can be removed with a hammer, and cracks can be welded.
19. Gas-powered portable capstan winch
You may want to consider a gas-powered portable Capstan winch as an alternative to an ATV-mounted electric winch or a crane-mounted hydraulic winch.
You can even get winches that attach directly to your chainsaw.
The portability of these tools makes them great for retrieving logs from areas your ATV cannot reach.
20. Tree Chopper
The tree chopper is an implement made for efficiently cutting down brush and small trees up to four inches in diameter. The tool attaches to the ATV's front, where solid metal blades cut the trees by ground level as you ride the bike forward.
21. Receiver bar log holder /sawbuck
This attachment goes under many different names, but they all work by the same principle. When cutting firewood, you stick one end of the log into the tool to keep it off the ground. Log jaws are one model that gets good user reviews.
I must admit I thought this tool seemed a bit unnecessary when I first saw it. Anyone who has tried operating a chainsaw at ground level for an extended period of time will understand the benefit of a more ergonomic working position.
You also prevent dulling your chain and keep it away from your feet.
22. Cargo basket
Stock ATVs come with very little available storage. There is no trunk or flatbed (except on 6×6 ATVs). If you're lucky, your bike may have a small storage box that can fit some basic tools and a pair of gloves.
But when out logging, you must bring stuff like gas and oil, felling gear, chains and straps, the chainsaw, felling tools, chainsaw tools, and much more.
A solid cargo basket will be a cheap and simple way to carry the most robust and roomy gear. They come in many shapes and are commonly made out of metal or plastic.
If you want to keep your costs down and don't emphasize aesthetics, a simple plastic milk crate will do the job just fine.
23. Dump trailer
You may not need a logging trailer to gather some firewood if you own a dump trailer. Remove the front and rear hatch, and you can load it up with logs. It's also a great way of transporting finished cut firewood to where you are storing it.
24. Log splitter
A tow-behind log splitter makes a great addition to your ATV. They are great when splitting firewood at remote locations like a hunting cabin or anywhere else without road access.
Get one with its own gas-powered engine; you don't need electricity to do the job.